Lightly sweet biscuit with a bold ginger zing. A perfect pair with lemon or orange curd, tea or lemonade, and buttery brie or mascarpone.
Ingredients:  WHEAT FLOUR, BUTTER, OATS, MOLASSES, CRYSTALLIZED GINGER (GINGER, CANE SUGAR), TURBINADO CANE SUGAR, WATER, KOSHER SALT, GINGER, BAKING SODA, BLACK PEPPER, NUTMEG
Oat Information: We do not use any oats and/or oat products which have been treated with glyphosate. This does not suggest any health or food safety concerns as reviewed and regulated by both the US FDA and/or CFIA/Health Canada.
Nutritional Info: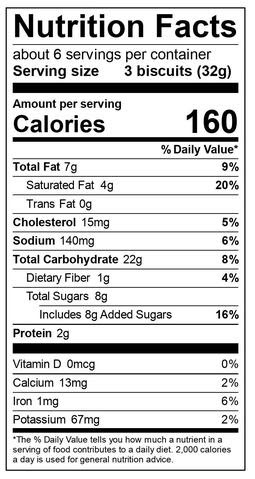 Allergy Information: CONTAINS MILK, WHEAT.
Made in a facility that also processes eggs, milk, peanuts, soy and tree nuts.